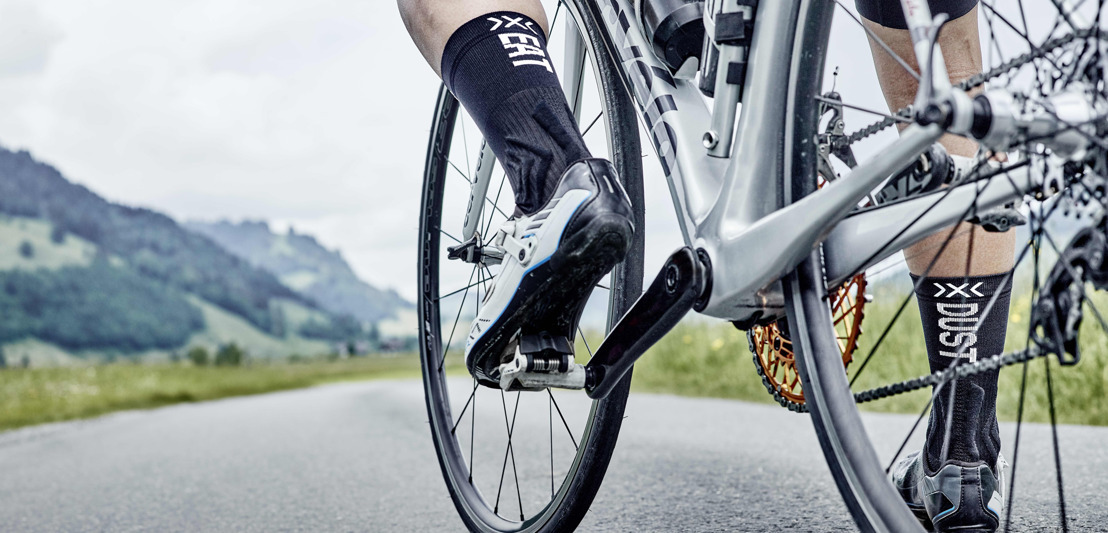 X-SOCKS – the legend turns 20
Tuesday, August 7, 2018 — In just 20 years, the premium brand X-SOCKS has become one of the most renowned brands of socks in the world, from the world's first anatomical functional sock. Sold in more than 40 countries, X-SOCKS has a considerable influence on the market with its diverse product range of more than 200 sport-specific socks. From its first sock with a guarantee promise, X-SOCKS has not only made it onto the winner's podium at the Winter Olympics, but also won numerous design awards. With the current X-SOCKS 4.0 collection, the developers at X-Technology Swiss have introduced a new era for high-tech socks and continue to write their success story.
Milestones in the evolution of functional socks
X-SOCKS surprised the market as a climate-regulating sock with a durability guarantee 20 years ago. Its performance was acknowledged, not only by an official review in 1999, but also by professional athletes who chose X-SOCKS as their favourite in a comparative study in 2004. In 2006, the cult brand helped the Norwegian team climb the winner's podium at the Winter Olympics; numerous medals followed. In 2009, X-SOCKS won its first Red Dot Award in one of the biggest acclaimed design competitions. This was just the start of a whole string of awards.
X-SOCKS 4.0: High tech on foot with up to 12 patents in a sock
The new generation of X-SOCKS is currently revolutionising the functional sock market with even more sophisticated technical approaches and ultramodern features: The Air-Conditioning Channel 2.0 improves ventilation inside the athlete's shoe thanks to an advanced air circulation system made from fine netting. The resulting pump effect allows cool, dry air to reach the foot, and just like the first Air-Conditioning Channel generation, it creates a barefoot climate even when wearing trainers.
Cyclists also benefit from so-called grip stripes on the X-SOCKS Bike Race model. This special yarn provides enhanced support inside the shoe, enabling more efficient transmission of power to the pedals. The development team at X-Technology Swiss also refined the Lambertz-Nicholson Achilles Tendon Protector 2.0: This two-part, 3D-knitted protector relieves strain on the athlete's Achilles tendon by absorbing pressure and rubbing in the shoe.
The newly developed Suppronation footbed is revolutionary: Positioned at the arch of the foot, it stabilises the athlete's foot and thus counteracts widespread issues of supination and pronation.
"We are introducing a new era of high-tech functional socks with these innovative features. Cyclists are fully equipped for all kinds of sports-related challenges with these precision-manufactured high-tech materials", says Prof. Dr. Bodo Lambertz, founder of the internationally renowned brands X-BIONIC, APANI and X-SOCKS.
In addition to X-SOCKS, the successful X-BIONIC brand has redefined the world of functional apparel in just a few years.
Karolin Wappler Press Contact for the brands X-BIONIC®, X-SOCKS® & APANI®